Kero World Compact Convection 10,500 Btu's Portable Indoor Kerosene Heater
SKU:

KW-12

UPC:

013204220129

Brand

Kerosene

Manual

10,500

350 sq. ft.

No

N/A

12.75 in

12.75 in

21.5 in

17.45 lbs

White

Minimal

No

6,001 - 12,000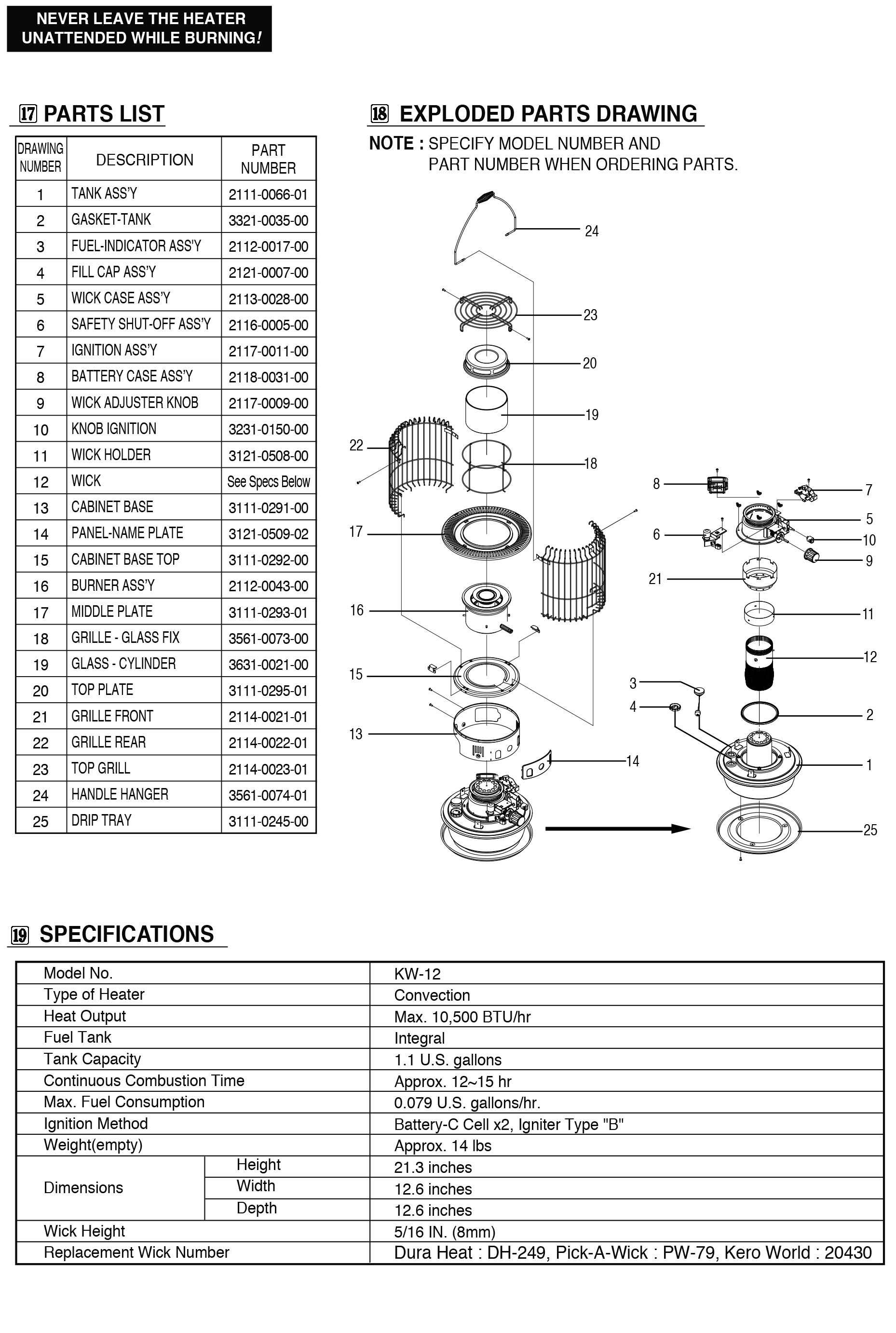 Description
The KW-12 provides 10,500 BTU/hr of warmth and can provide up to 15 hours of heat and light on one tank (1.1 gal.) of fuel. It's the perfect heater for emergency preparedness.
NOTE: The state of California prohibits the use of this product in any dwelling, house or unit. In the state of California, use should be limited to non-airtight outbuildings such as barns, garages, etc. The sale of this product is prohibited in the state of Massachusetts. Please check your state and local codes prior to purchase.
Features:
Lightweight, portable
Extended burn time
360 degree heating radius
Push to start ignition
Accidental tip-over shut-off
Provides heat and light
No electricity required
2-Year warranty
Specifications
Fuel Type:
Kerosene
Temperature Control:
Manual
BTUs:
10,500
Heating Area:
350 sq. ft.
Electricity Required:
No
Watts:
N/A
Length:
12.75 in
Width:
12.75 in
Height:
21.5 in
Shipping Weight:
17.45 lbs
Color:
White
Assembly Required:
Minimal
Professional Install Suggested:
No
Certification:

Manual:
BTU Range:
6,001 - 12,000
Pre-Purchase Info: